Zipper Jig
{{resource("/ProductPage/Labels/StockNumber")}}

{{displayVariant.DisplayCode}}
{{resource("/ProductPage/Labels/Sale")}}
${{displayVariant.Price.PurchasePrice | toDisplayFormat}}
{{resource("/ProductPage/Labels/Was")}}
${{displayVariant.Price.WasPrice | toDisplayFormat}}
{{resource("/ProductPage/Labels/List")}}
${{displayVariant.Price.ListPrice | toDisplayFormat}}
{{displayVariant.PromotionalText}}
---
{{resource("/ProductPage/Labels/Options")}}
---
{{displayVariant.InventoryStatus}}
{{format(resource("/Shared/Label/EstimatedArrivalDate"),displayVariant.ShippingEstimate)}}
{{format(resource("/Shared/Label/BackOrderedEstimatedArrivalDate"),displayVariant.ShippingEstimate)}}
{{format(resource("/Shared/Label/DiscontinuedOutOfStockEstimatedArrivalDate"),displayVariant.ShippingEstimate)}}
{{resource("/ProductPage/Labels/VolumePricingHeader")}}
{{resource("/Shared/Label/QuantityTable/Qty")}}

{{volumePrice.Quantity}}+ {{resource("/Shared/Label/QuantityTable/Each")}}

{{volumePrice.Quantity}}+

{{resource("/Shared/Label/QuantityTable/Price")}}

${{volumePrice.Price.Amount | toDisplayFormat}}

{{resource("/Shared/Label/QuantityTable/Save")}}

—

{{volumePrice.Save | toDisplayFormat}}%
{{format(resource('/ProductPage/Labels/SoldInIncrementOf'),displayVariant.SoldInIncrements)}}
{{format(resource("/ProductPage/Labels/MinimumOrderQuantity"),displayVariant.MinimumOrderQuantity)}}
APPLY ZIPPER SLIDERS EASILY.
A handy tool for applying zipper sliders to zipper chains. This nickel-plated zipper jig has a lower clamp to secure it to a table and an upper clamp to secure and lock the jig rod in any direction. Can hold zipper sliders from #2.5 to #10, freeing both hands to apply the slider to the zipper. Instruction sheet included.
Features
Tool for applying zipper sliders to zipper chains
Holds #2.5 to #10 zipper sliders
Nickel-plated
Secures to a table
Product Specifications
Material:
Nickel-Plated Metal
Zipper Repair Essentials
Zipper Lubricant
Zipper Lubricants keep zippers running smoothly. Use to get zippers unstuck or moving more freely. Great to have on hand for zipper repair and maintenance.
Shop Now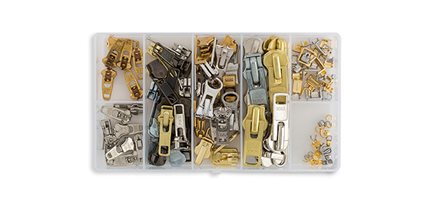 Zipper Repair Kits
Zipper Repair Kits contain a selection of zipper parts for repairing zippers, including replacement sliders with zipper pulls and top and bottom stops in a variety of styles. Available in metal or plastic.
Shop Now
Zipper Tools
The essential tools for zipper repair: End Nippers and Pliers are used to remove and install zipper stops, and a Zipper Jig holds zipper sliders in place for easy installation.
Shop Now
Everything You Need for Zipper Repair
Many of the most common zipper issues are easy to fix with just a couple of the right tools on hand. Be prepared for any zipper emergency with Zipper Repair Kits, Zipper Tools, and Zipper Lubricants. Use Zipper Lubricants to get a stuck zipper moving again, or keep zippers on garments, handbags, luggage, tents, and more running as smoothly as possible. For other repairs like changing a zipper slider, replacing missing zipper stops, or shortening a zipper, you'll need Zipper Tools like End Nippers and Zipper Pliers to make your repairs. For replacement parts, a Zipper Repair kit has you covered. With an assortment of zipper parts suited for several colors and styles of YKK Zippers, you can be sure that you have everything you need on hand for quick zipper repairs.